Chemical-analytical testing
Qualitative analyses

Quantitative analyses

Testing for REACH / POP candidate substances

Testing for SVHC-substances

Testing for parameters of common textile certificates, such as:
GOTS 6.0*

Öko-Tex*

Detox*
Testing for for customer-defined, specific limit values

Trace analysis using instrumental analytics
In the field of the analytics, CTL® GmbH uses a range of high-precision measuring instruments to detect a wide variety of elements that are banned in respective products. Through our analyses, manufacturers and importers know whether the prescribed limits are complied with, and the respective products are marketable.
You can rely on our in-depth knowledge and many years of experience in this field.
Our instrumental analytics equipment pool:
Inductively Coupled Plasma Optical Emission spectroscopy (ICP-OES)

Gas Chromatography–Mass Spectrometry (GC-MS)

High Performance Liquid Chromatograph (HPLC-DAD)

Photometer
Fibre analyses

Coating analyses

Analyses of harmful substances or pollutants

Dyestuff analyses

Analyses of textile equipment and finishing

Detection and quantification of metals

Multiple extraction techniques

Colour fastness

Fault and damage evaluation

REACH – Testing and Consulting:
Polychlorinated biphenyls (PCBs) and Chlorophenols

pH-value

Chlorinated Organic Carriers (COC)

Metals

Organostannic compounds (tin-organic)

Softeners/ Phthalates

Flame retardants

Aromatic amines (MAK)

Customised tests
Discover some of our key testing solutions in the field of analytics. Contact us for a full list of services or to discuss your specific testing requirements.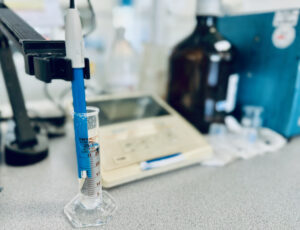 pH-value of aqueous extract DIN EN ISO 3071 specifies a method for determining the pH value of textiles. A defined amount of the textile is
Read More »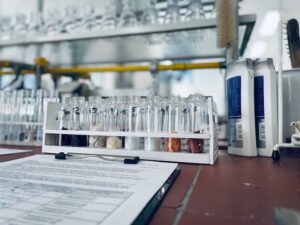 DIN EN 1811 describes a method for determining the release of nickel from metal parts. For coated metals, an abrasion process according to DIN EN
Read More »