Independent...Honest...Transparent
As a certified and accredited testing laboratory, we have been offering our customers chemical-technological services, specific advice and applicative expertise in a wide range of economic and process segments for over 25 years. Our high, consistent standard of laboratory work makes us a reliable partner at your side.
We strive to continuously develop practical system solutions and test procedures in accordance with the requirements of the market and our customers, enabling you to increase your productivity.
esteem® - a seal of quality for upholstery fabrics
Do you have any questions?
Discover some of our key testing solutions related to this department. Contact us for a full list of services or to discuss your specific testing needs.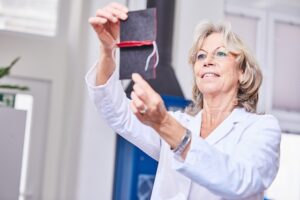 DIN EN ISO 13936-1, Textiles – Determination of sliding resistance of yarns in fabric seams – Part 1: Method with specified seam opening The method
Weiterlesen »